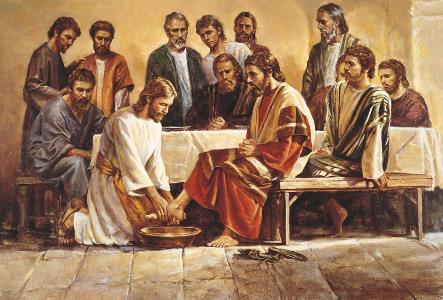 Getting out of a thoughtless stupor
The thoughtless stupor
It was 62 BC. The Nephites were locked in heated battle against the Lamanites (but really, more so against other Nephites who had rebelled). Unfortunately, although there were many miracles, the war overall was not going too well for the Nephites. Short on men, bereft of supplies, and low on confidence, the Nephites waited for the government to send them aid. But years passed, and little or no aid seemed to come. In fact, the government didn't even seem to be responding to communication anymore. Their situation was dire. Finally, in Alma 60 the indignant Captain Moroni wrote a scathing letter to the chief judge, condemning their inaction and demanding that the government send lifesaving aid to their soldiers.
I had read that harsh letter from Moroni many times. But this last time, a few weeks ago, I had the unsettling feeling that Moroni was talking to me. Let me explain:
Take a moment and think of all the suffering in the world. If that's too much for you, just think about the disasters we have seen in the past few weeks alone: hurricanes, fires, earthquakes, wars, floods, and riots everywhere from Florida to Texas to Mexico to the Middle East. Think of all the children of God suffering from disaster, abuse, neglect, sickness, and all pains.
Now, read these verses from Moroni's letter. But I'm going to make a few substitutions (for our profit and learning, of course). Let's replace references to Moroni's enemies (the Lamanites) with our own enemies in this context (the suffering and afflictions we see in the world). And let's replace those government leaders Moroni refers to with ourselves, and the soldiers with those suffering from these afflictions and destruction.
What you end up with is what I felt Moroni was saying to me when I read Alma 60 this past time:
For behold,, I have somewhat to say unto you by the way of condemnation; for behold, ye yourselves know that ye have been appointed to gather together men, and arm them with [shovels and blankets], and with [meals and care packages and donations], and all manner of [aid] of every kind, and send forth against the [suffering], in whatsoever parts they should come into our land.

And now behold, I say unto you that [we, your brothers and sisters] have suffered exceedingly great sufferings; yea, even hunger, thirst, and fatigue, and all manner of afflictions of every kind…
Great has been the slaughter among our people; yea, thousands have fallen by the [earthquakes and hurricanes], while [their suffering] might have otherwise been [alleviated] if ye had rendered unto our [them] sufficient strength and succor for them. Yea, great has been your neglect towards us.

And now behold, we desire to know the cause of this exceedingly great neglect; yea, we desire to know the cause of your thoughtless state.

Can you think to sit upon your [counches] in a state of thoughtless stupor [watching Netflix], while [you see] the work of death around you? Yea while they are [afflicting] thousands of your brethren–

Yea, even they who have looked up to you for protection, yea, [God has] placed you in a situation that ye might have succored them, yea, …to have strengthened them, and have saved thousands of them from [such suffering].

But behold, this is not all– ye have withheld your provisions from them, insomuch that many have [suffered] with hunger, because of your exceedingly great neglect towards them.

And now, my beloved brethren– for ye ought to be beloved; yea, and ye ought to have stirred yourselves more diligently for the welfare… of this people; but behold, ye have neglected them insomuch that the blood of thousands shall come upon your heads for vengeance; yea, for known unto God were all their cries, and all their sufferings–

Behold, could ye suppose that ye could sit upon your [couch], and because of the exceeding goodness of God ye could do nothing and he would deliver [them]? Behold, if ye have supposed this ye have supposed in vain…

And now behold, I say unto you, I fear exceedingly that the judgments of God will come upon this people, because of their exceeding slothfulness, … and their exceedingly great neglect towards their brethren, yea, towards those who have [suffered]…

Have ye forgotten the commandments of the Lord your God? Yea, have ye forgotten the [suffering] of our fathers? Have ye forgotten the many times we have been delivered out of [suffering and affliction]?

Or do ye suppose that the Lord will still deliver us, while we sit upon our [counches] and do not make use of the means which the Lord has provided for us?

Yea, will ye sit in idleness [browisng Facebook] while ye are surrounded with thousands of those, yea, and tens of thousands, who do also sit in idleness, while there are thousands round about in the borders of the land who are [suffering]?

Do ye suppose that God will look upon you as guiltless while ye sit still and behold these things [on the news]?

… Repent of that which ye have done, and begin to be up and doing, and send forth food and men unto us… bestir yourselves in the aid of your country and your little ones… Behold, I wait for assistance from you.
By tweaking the words just a little bit, Moroni's letter becomes not a stirring call to arms for a war effort, but a plaintive call to serve for all of God children to get out of their "thoughtless stupor" and get to work helping others.
The "hunger" to serve
It's funny how likening scriptures to yourself tends to usually cause a bit of a guilt trip. That's what happened to me. Recently, I've had the feeling that something in my life was lacking. I did a quick self-review: Scriptures, check. Prayers, check. Church attendance, check. Home teaching… mostly check. Tithing, check. Calling, check. I couldn't tell what was missing that was putting me in such a funk (or stupor of thought).
But then I started to notice something interesting. Whenever there was a natural disaster, whenever I heard of a family going through difficulty, I felt something inside me yearning to help. Almost like a hunger to serve. That's what was missing. On my mission, I was out helping people all day every day. Shortly after my mission, I was called to serve in a certain calling that gave me many similar opportunities to see needs in others' lives and assist in relieving them. I served in that position for several years. In many ways, it was like a second mission. For about 6 years of my life, I was involved in a lot of meaningful service as part of my calling.
I do not have quite the same opportunity in my current calling. Don't get me wrong– it is awesome to serve with the ward's Webelos scouts for a few hours every week. That's not to say that my service is not important (every calling is)– it's just not sufficient to fill the depth of service I feel I need to provide. I realized that with this change of calling, God was giving me an opportunity to learn to discern and lift burdens beyond donations and without having a specific Church assignment and structure to do so.
So I started praying for opportunities to know how I could provide meaningful service. More importantly, I prayed for the ability to recognize the opportunities when they would come. My wife joined me, and we made it a subject of family prayer.
Florida
And then, our prayers were answered: Irma slammed into Florida, devastating the state. Florida is just a measly 7 hours south of here, so I was excited for the possibility that my stake would be asked to go and help out with the relief effort. I have to admit, my reaction to this disaster was something like that moment from the Incredibles where Bob is incredibly excited about a building fire nearby that he can help with.
Sure enough, an email from the stake showed up in my inbox just a few days later– before power had even been restored to a lot of the state. I arranged my work schedule (thankfully, my work gives us one paid day for service each year), we dropped off our kid with grandma, and my wife and I left for a weekend of service in Jacksonville.
We slept in the Church building and in tents. We hauled tons of debris. We cut up massive fallen trees. We cleared tore up decks and cleared yards. It was exhausting, backbreaking work. It was hot. It was muggy. It was wonderful. We helped a lot of families and hopefully touched a lot of lives. We left with full hearts.
How to always retain a remission of your sins
What is that "full heart" feeling you feel when you serve? The way you feel like a better person after serving someone? Cynics say it's your mind rewarding itself for doing something impressive– a form of selfish pride. I've heard others saying it's God's reward for doing what's right and His way of making sure we care for one another. But neither of these explanations hit the mark. The prophet-king Benjamin taught:
And now, for the sake of these things which I have spoken unto you– that is, for the sake of retaining a remission of your sins from day to day, that ye may walk guiltless before God– I would that ye should impart of your substance to the poor, every man according to that which he hath, such as feeding the hungry, clothing the naked, visiting the sick and administering to their relief, both spiritually and temporally, according to their wants.
What is that "full heart" feeling? Why do we feel like better people when we serve? Because as we administer to those in need, we improve our ability to retain the remission of our daily sins. We become cleaner, and we stay cleaner. Our lives mirror Christ a little more closely, and we repent a little more readily. We become more godly as we do godly things.
Amulek taught that the contrapositive to this is also true when he issued this sober warning to all believers:
If ye turn away the needy, and the naked, and visit not the sick and afflicted, and impart of your substance, if ye have, to those who stand in need– I say unto you, if ye do not any of these things, behold, your prayer is vain, and availeth you nothing, and ye are as hypocrites who do deny the faith.

Therefore, if ye do not remember to be charitable, ye are as dross, which the refiners do cast out, (it being of no worth) and is trodden under foot of men.
Serve others, and you retain a remission of your sins. Neglect others, and you deny the faith. The best way to helping your inward self is by focusing all your energies on helping others.
Resources to serve
I shouldn't have to wait for a hurricane to destroy Florida to get me out helping people. After all, aren't there supposed to be "chances for good all around just now, opportunities right in our way?" But if there were any, I was missing them. The ones I heard about announced in Church always seemed to require someone to have electrical expertise, be a sister, own a truck, or be available during my school or work hours in the middle of the week. What I really wanted was a list of meaningful opportunities that anyone could fill in the area that I could work into my schedule.
Well, turns out there's an app for that. In fact, there are at least two that I know of: JustServe(built by the Church but not run as a Church organization), and Neighborhood of Good(by StateFarm). In my limited experience looking at them, Neighborhood of Good seems to have more (and more worthwhile) opportunities available in my area than JustServe, however, I know the PR guy here and he says there is a big PR push to get more local opportunities listed, so we'll see how that goes. I also saw something on Neighborhood of Good for a site called All for Good that offers a similar service for local service listings that I plan to check out.
So wake up and do something more Than dream of your mansions above Doing good is a pleasure, A joy beyond measure, A blessing, a duty of love.
Here are a few pictures from our service weekend in Florida: