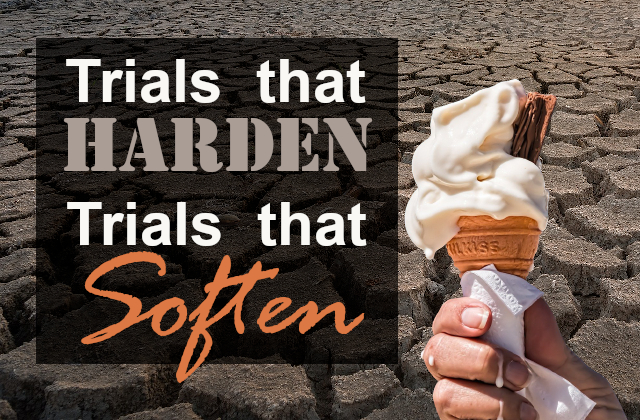 Trials that harden, trials that soften
2020 wasn't the dumpster fire everyone makes it out to be, but it has been a roller coaster year. COVID, lockdowns and their religious liberty concerns, and the most contentious election of my lifetime.
Thankfully, my ward has been less affected than many. Very few members got sick and no one died. Most members were able to work remotely. Our state eased restrictions earlier than others, allowing us to resume in-person Church meetings with proper safety measures after just a few months. On the political front, our members have largely refrained from "political statements and unkind references in our Church meetings" (so far). We are truly very blessed, and things seem to be returning to at least a semblance of normalcy.
However, in my ward and thousands of wards like it, we are noticing that while circumstances are returning to normal, we as a people are very different from how we were one year ago. And in some ways, that scares us.
The softening and the hardening
Do you find it hard to plow through the seemingly endless pages of the war chapters? Yeah? Now imagine having to live through the war chapters. It was tough. I'm prone to whining about how my cushy life has been disrupted for the past year. But the Nephites endured 17 straight years of life disrupted by constant, existential war. When the Lamanites were finally defeated, life started to return to some semblance of normalcy (similar to today), the Nephite Church leaders looked around and noticed an interesting contrast in the responses of Church members to this extended time of trial. Some members of the Church "had become hardened, because of the exceedingly great length of the war" while others "were softened because of their afflictions" (Alma 62:41).
This is the same dichotomy we are seeing today. In my current calling, I have the responsibility to put my finger a little tighter on the pulse of the ward than previous callings. I see in my current assignment what local leaders are likely seeing throughout the Church right now. On the one hand, we see members reaching out in new and holier ways. Many members' examples are so powerful that the title of "ministering brother" or "ministering sister" doesn't quite do them justice. Maybe "ministering angel" would be more appropriate. When the going got tough, these members grew stronger and reached out.
But we have also seen the opposite. While our meetinghouses are open again, members who feel uncomfortable meeting in person due to COVID are welcome to worship and administer the Sacrament within their homes. But sadly, we get the sense that many faces we miss on Sundays are not doing that. In units all over the world, bishoprics, presidencies, and other leaders are increasingly concerned by the lack of Sacrament administration and other worship at home among previously strong Saints. It seems once the weekly cadence of congregational meetings was removed, home-centered worship was not strong enough to take its place. When the going got tough, these members withered and they withdrew and are now absent from not just the chapel, but also personal Gospel living.
As with the Nephites, trials soften some hearts while they harden others.
Prophetic warnings
In April 2018, Pres. Nelson prophesied that:
In coming days, it will not be possible to survive spiritually without the guiding, directing, comforting, and constant influence of the Holy Ghost.
We could not have imagined that those "coming days" would come so quickly, cutting us off from the spiritual support system of Church meetings less than two years after his warning. Pres. Nelson exhorted us to prepare:
I plead with you to increase your spiritual capacity to receive revelation… Choose to do the spiritual work required to enjoy the gift of the Holy Ghost and hear the voice of the Spirit more frequently and more clearly.
Later, only a few months before our lives would shut down, our Prophet repeated his warning. This time, addressing active and less-active members without firm personal spiritual foundations, he spoke with unmistakable urgency:
As President of His Church, I plead with you… Do the spiritual work to find out for yourselves, and please do it now. Time is running out.
We did not know what was coming down the pipe. Even Pres. Nelson didn't know the details of what was coming. But God did. As Elder Uchtdorf reminded us, these trials "did not catch Heavenly Father by surprise." He warned us through his authorized servants. He pled with us to become spiritually ready to spiritually stand alone for an extended period of time. Our Savior fulfilled the promise He made to the brother of Jared when He said, "behold, I prepare you against these things." Those who heeded the Prophet's warnings were spiritually prepared for this time.
Where do you stand?
This post isn't like my usual posts. I don't have an interesting connection to tie everything together into a nice bow today. I just want to echo the Prophet's plea to those members I love who are living without the blessings of the Gospel. I would invite us to ask ourselves these reflective questions:
When is the last time I studied – not just read General Conference talks or the Scriptures? What are the blockers to my scripture study?
When is the last time I prayed? Not just a "check off the box" prayer– when is the last time I truly cried to the Lord?
When is the last time I felt the Spirit in my home?
Ma I regularly teaching the Gospel to those in my household?
If I hold the Melchizedek Priesthood, am I regularly offering Priesthood blessings to those of my household?
Has your conviction of the Gospel and your living of Gospel covenants slipped in any way over the past year?
Do I regularly seek Priesthood blessings for myself and ponder on their counsel?
If I am not attending Church due to COVID concerns, could I honestly say that is the only reason I do not attend? Could I honestly say, to paraphrase King Benjamin, "I attend not because I cannot, but if I could I would attend?"
Do I choose not to attend Church because of the requirement to wear a mask and/or socially distance?*
If I am not attending Church, do I participate in your meetings virtually where available? Do I maintain close contact with my quorum/class and ministering assignments? Do I administer the Sacrament in your home or ask my ministering brothers to administer it for me?
In other words, have these trials softened you heart or hardened it?
If you are feeling distant from God or His Church, please know that neither God nor His Church "went away" this past year. And neither God nor His Church particularly cares how far you may have drifted– what matters to them is that they are here for you now. If you haven't returned to the Gospel, please "do the spiritual work required" and return. If you can return in person, great. If not, return in whatever way you can– just return.
You need the blessings of the Sacrament and fellowship with the Saints. And the Saints need the fellowship of you. The Church is not the same without you.
---
* To those who are choosing to not attend solely due to the requirement to mask and/or socially distance, seriously, I get it. I'm not just "inconvenienced" by masks– I resent them on a physiological, psychological, social, and political level. I will go out of my way to avoid almost any situation where I have to wear one. When our ward re-opened for in-person meetings, I initially planned to stay home specifically so I would not have to wear a mask.
But as the first in-person meeting drew near, I felt unsettled about my initial decision. When the resurrected Lord found His Apostles fishing, He asked them pointedly, "Who do you love more? Me? Or these fish?" I realized God was asking me the same question. For the first time in my life, my strong political and social views ran counter to something the Lord had asked me to do. Now it was my turn, like Peter, to answer the Lord with my actions and tell Him where my priorities lie.
Many in the Church have the same personal and political leanings I do. For many of us, this is the first time we are asked to do something that makes us bristle. But when God speaks through his authorized servants, He expects us to obey despite our doubts or disagreements. In the past, obedience meant building a boat in the middle of the desert, sacrificing your firstborn, or trekking across the plains. In the future obedience may involve selling your house at a loss, deeding all your property to the Church, and gathering to Missouri. But today, obedience is strapping a piece of fabric over our mouths for 2 hours a week.
So please, please, I invite you to swallow your pride for 2 hours a week and return with us. You don't need to change your opinions on masking or your advocacy against them. You don't need to pretend you like it. You don't need to keep them on any longer than you need to (I rip mine off the moment I walk out the doors). But you do need the blessings of the Gospel. As a mask-critic, I promise that the spirit of the Sacrament and fellowship with the Saints is worth the price of wearing the "face diaper" for a few hours. 😷