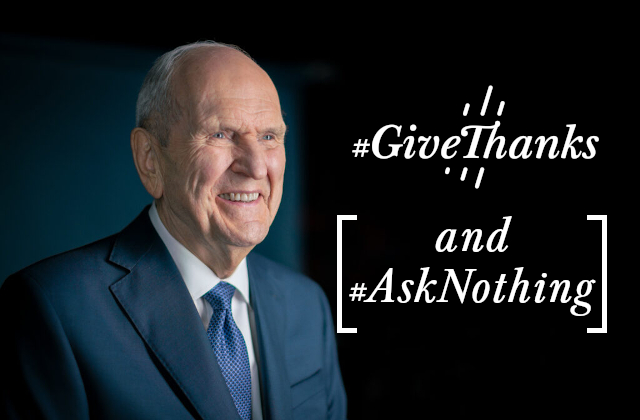 #GiveThanks and #AskNothing
On Friday, the Prophet invited us to "turn social media into your own personal gratitude journal. Post every day about what you are grateful for… flood social media with a wave of gratitude that reaches the four corners of the earth."
That invitation couldn't have come at a better time, and I'm grateful to accept it. However, I was also prompted to add a little something extra to my search for gratitude. Let me explain why President Nelson's address hit me so hard.
A new lesson from the Sermon on the Mount
Consider this well-known verse from the Sermon on the Mount:
But when ye pray, use not vain repetitions, as the heathen, for they think that they shall be heard for their much speaking.
I used to simply interpret the Savior's counsel here to mean that we should not recite memorized prayers, chant words over and over, or offer "thoughtless" prayers just to check off a box. Then, once I had gleaned what I thought the Savior was saying from that verse by itself, I moved on to the next verse:
Be not ye therefore like unto them, for your Father knoweth what things ye have need of before ye ask him.
Don't be like heathens. Also, God is omnipotent, so He knows what you're going to say.
Since I can only keep about one verse in my mind at a time, I had read these verses as two different, distinct instructions. But a few years ago, I realized it was really one continuous instruction the Lord started in verse 7 and finished in verse 8. I just had to remove the tangent in the middle:
But when ye pray, use not vain repetitions… for your Father knoweth what things ye have need of before ye ask him.
All of the sudden, the lightbulb clicked. I learned that "vain repetitions" are prayers that convey a lack of trust that God knows what He's doing.
Once I had that idea in my mind the word itself made more sense. The word vain doesn't just mean prideful or arrogant– it also means useless. Repetition doesn't just mean saying something over and over. A petition means to ask for something you want. A re-petition means to ask for that thing over and over again. A vain repetition is pointlessly asking for something over and over again because we either don't believe Heavenly Father already knows or because we don't trust Him to deliver.
Modern-day vain repetitions
I wondered, "are there vain repetitions in the prayers I utter?" A few phrases immediately came to mind:
"please bless us that we will have a good day"
"please bless us that aren't here that they will be here next time"
"please bless us that no harm or accident will befall us"
Prayers as a sign of distrust
That last one hit home to me. See, I'm really nervous behind the wheel. From the day I got my driver's permit, I developed the habit of praying for safety every time I drive and thanking God for a safe trip when I arrive. I did this even for 5-minute trips to the grocery store. Was that a vain repetition by this standard? You bet it was.
As I pondered on this habit of mine, the Spirit prompted me to ask myself, "If, as Christ taught, 'your Father knoweth what things ye have need of before ye ask him,' then why do I even ask Him at all?" I realized that I prayed for safety before each drive because I worried that God might withhold the blessing of safety if I did not explicitly ask Him to watch over me and my family as we drove. My prayer, in that sense, was not an expression of faith and trust, but of fear and distrust.
The ancient Greeks at the time of Christ believed their "gods" were much like humanity– forgetful, prideful, gullible, and easily angered. They viewed their gods like very impetuous but very powerful children. Their gods needed constant reminders of the humans' need for favors. No wonder the heathen Greeks "thought that they shall be heard for their much speaking."
When it came to road safety, I was treating Our Father in Heaven like a heathen god. At one point as a toddler, my son developed an unexplainable fear that mom and dad would abandon him and leave the house while he was in time out. Despite my wife and I repeatedly promising him we could never abandon him like that, he could not bring himself to believe us. During this phase of his life, he remained in a state of needless fear that his loving parents really might not be so loving after all. How much more pointless our fears of God's nature?
If ye then, being evil, know how to give good gifts unto your children, how much more shall your Father who is in heaven give good things to them that ask him?
It broke my heart to see that our little boy did not trust us to be responsible parents. Did Heavenly Father feel the same sadness when I displayed such distrust in Him? Does He roll His eyes a little when I ask Him to keep our food nutritional and our bodies functioning at every mealtime? Do I say those things to check safety boxes when even as a mortal father, I knew I could never allow my son to be hurt because he didn't perform some fearful ritual?
Going on an "ask fast"
What is the antidote to praying out of fear? Praying out of faith. How can we start praying out of faith? For me, the answer came as the Spirit brought a general conference talk from Elder Bednar into my mind. He related:
During our service at Brigham Young University-Idaho, Sister Bednar and I frequently hosted General Authorities in our home. Our family learned an important lesson about meaningful prayer as we knelt to pray one evening with a member of the Quorum of the Twelve Apostles.

Earlier in the day Sister Bednar and I had been informed about the unexpected death of a dear friend, and our immediate desire was to pray for the surviving spouse and children. As I invited my wife to offer the prayer, the member of the Twelve, unaware of the tragedy, graciously suggested that in the prayer Sister Bednar express only appreciation for blessings received and ask for nothing… Given the unexpected tragedy, requesting blessings for our friends initially seemed to us more urgent than expressing thanks.

Sister Bednar responded in faith to the direction she received. She thanked Heavenly Father for meaningful and memorable experiences with this dear friend. She communicated sincere gratitude for the Holy Ghost as the Comforter and for the gifts of the Spirit that enable us to face adversity and to serve others. Most importantly, she expressed appreciation for the plan of salvation, for the atoning sacrifice of Jesus Christ, for His Resurrection, and for the ordinances and covenants of the restored gospel which make it possible for families to be together forever.

Our family learned from that experience a great lesson about the power of thankfulness in meaningful prayer… We learned that our gratefulness for the plan of happiness and the Savior's mission of salvation provided needed reassurance and strengthened our confidence that all would be well with our dear friends…

The most meaningful and spiritual prayers I have experienced contained many expressions of thanks and few, if any, requests… Let me recommend that periodically you and I offer a prayer in which we only give thanks and express gratitude. Ask for nothing; simply let our souls rejoice and strive to communicate appreciation with all the energy of our hearts.
Please note that Elder Bednar is not saying it's inappropriate to ask for things in prayer. Our God is a Good Father who delights to bless us and there are many blessings He has in reserve that we sadly forego because we don't ask for them. On Fast Sundays, we choose to go without the nourishing and life-sustaining effects of food and drink for a short period of time. We do not fast from food because food is bad, but because living for a short while without them in the spirit of fasting tunes our spiritual senses, increases our faith, strengthens our gratitude, and teaches us important lessons about ourselves and our Father in Heaven. Elder Bednar is recommending what I call an "ask fast," an opportunity to go without asking for blessings for a short time. Like fasting from food, such an "ask fast" tunes our spiritual senses, increases our faith, strengthens our gratitude, and teaches us important lessons about ourselves and our Father in Heaven.
Following Elder Bednar's lead, I decided to participate in such an "ask fast." I determined that for one week, I would thank God for everything and ask God for nothing. Just like a food fast, it was hard. I often found myself slipping into the pattern of "covering my bases" during my prayers during the day. Without thinking, I was engaging in "vain repetitions":
"Bless us that we will sleep well and wake up refreshed and ready for the… oops."
"Bless this food that it will… oops."
"Help us to feel thy spirit throughout the… oops."
"Please forgive me for… oops."
My prayers that week were filled with unfinished sentences, backtracking, and a lot of silence. I didn't realize how many blessings I had been thoughtlessly asking for until I was not supposed to ask for them. I had found myself fitting the description of prayer given by President Hickley:
The trouble with most of our prayers is that we give them as if we were picking up the telephone and ordering groceries– we place our order and hang up.
Replace asking with thanks and confidence
It was in those awkward, silent moments of not asking that prayer finally started clicking for me. Each moment where I normally asked for a blessing became an opportunity to express gratitude and trust. When I expressed gratitude and trust, my mind and heart were opened, and I felt moved to commit to more action on my part. For example:
In the dinner blessing, instead of asking for nourishment and strength, I thanked God for the food and expressed confidence that I knew it would nourish and strengthen us. That expression of faith and gratitude opened my mind and my heart, and I felt moved to express a willingness to be more generous in sharing the abundance we have been given with others and a desire to increase our donations.
In my morning prayer before work, instead of asking for a missionary opportunity, I thanked God for the missionary opportunities I already had in my life and expressed confidence that He would place more in my path. That expression of faith and gratitude opened my mind and heart, and I felt moved to express a willingness to be bolder when a missionary opportunity arises– to extend invitations to act instead of just information about my beliefs.
In my nightly personal prayer instead of just asking to forgive that day's mistakes, I thanked God for the promptings I had recognized and expressed confidence that He would continue to guide me to improve. That expression of faith and gratitude opened my mind and heart, and I felt cleaner as a result, with a greater desire to work to remain clean.
This week-long "ask fast" transformed the way I prayed. Even when I started asking for things in prayer again, I tried to make it intentional, and ask out of faith and never out of fear. I took serious time to express gratitude. I wanted my "thanks to please ratio" to be as high as possible. My prayers were more meaningful and I felt more connected with heaven.
#GiveThanks and #AskNothing
When I heard Pres. Nelson challenge us to "unite in thanking God through daily prayer" on Friday, I realized my prayers had become sloppy again. My "thanks to please ratio" has gotten low. They're becoming less and less thoughtful. Their power is dimming.
Right now we're flooding social media with messages that #GiveThanks. Let's also flood our prayers. I invite you to go on an "ask fast" with me. Set a goal for the next week or two to eliminate all asking from your prayers. Replace them with gratitude and expressions of confidence in God's continued blessings. #GiveThanks and #AskNothing. These prayerful expressions of faith and gratitude, combined with your contributions to the social media gratitude flood, will open your mind and your heart and fill your soul with joy and determination to improve.
If you feel so inclined, I would love to hear your experiences. Add a comment or a message on Facebook or shoot me an email. Hopefully, we can make this spirit of gratitude last longer than 7 days :)